Salam Toronto: Queen Gallery hosts 'Six Weeks of Iranian Art'
Published On: Thu, Jul 26th, 2012
Queen Gallery hosts 'Six Weeks of Iranian Art'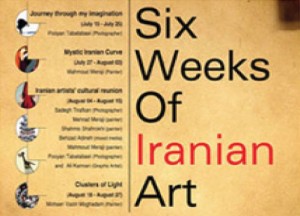 Throughout August and September, several Iranian artists will have their works features at Queen Gallery.
Toronto's Queen Gallery will be presenting 'Six Weeks of Iranian Art,' a series of Iranian art exhibits from internationally renowned and award winning Iranian artists alongside that of emerging young talent from the Iranian-Canadian community.
According to the Gallery's website, the festival program includes four visual arts exhibitions, including the work of art master Mohsen Vaziri, four musical performances including Canadian rock band Soul Nidus and the screening of a selection of Iranian short films and documentaries, including the work of Seifollah Samadian.
"The program also includes interactive workshops, screenplay readings, story-telling and networking events as well as a dusk-to-dawn continuous projection of short films and selected art works for the public," the website said.
"Our aim is to promulgate the vibrant cultural and intellectual contribution of the growing Canadian-Iranian community and to preserve the Iranian cultural heritage," said festival curator Pooyan Tabatabaei on the gallery's website.
The gallery is also hosting its third annual Juried Art Exhibition between August 2 and 22 which will feature many Iranian artists living both in Canada and abroad. Iranian artists include Afsaneh Safari, Arad Habibagahi, Firoozeh Tangestanian, Haleh Jamali, Jamak Hadiyan, Kaveh Baghdadchi, Mahin Lotfmohammadi, Mahnaz Piroozfar, Marjan Mazaheri, Maryam Hafizirad, Sarabi Daryan, Mehdi Moazzami, Mina Hamidi, Nima Jamali, Parham Didehvar, Shamsi Shahrokhi, and Shirin Aghdaie.
The festival will be located at Queen Gallery (382 Queen Street East, Toronto) starting on September 21. For more information, visit queengallery.ca